We have the verdict on traffic filters in your city - let's make it count.
We have the verdict on traffic filters in your city - let's make it count.
---
---------- Forwarded message ---------
From:
Hirra Khan Adeogun - Possible
<hello@...>
Date: Thu, 16 Sept 2021 at 16:31
Subject: We have the verdict on traffic filters in your city - let's make it count.
To: <
sseymour137@...
>
Hi Susan,
City councils across the UK want to take action on climate change, but are often unsure how different interventions will land with their local residents. 

Thanks to the help of our volunteers, we now know that installing blocks, bollards or planters, on streets to create safer space for walking and cycling, is a Council intervention that has public support. 
In the last 18 months, traffic filters became a bit of a hot topic in the press and on social media, with these interventions appearing divisive and with misinformation. Despite the attention, until now no-one had a clear understanding of how residents of streets with older filters felt about them. So that's where we came in.
Over the summer, Possible campaigners and local volunteers were out knocking on doors to hear what communities in Birmingham, Bristol, Leeds and London, had to say about living near traffic filters.
And what did we find? People love their traffic filters. A massive 84.6% of residents who lived on streets with older traffic filters, want to keep it on their street*.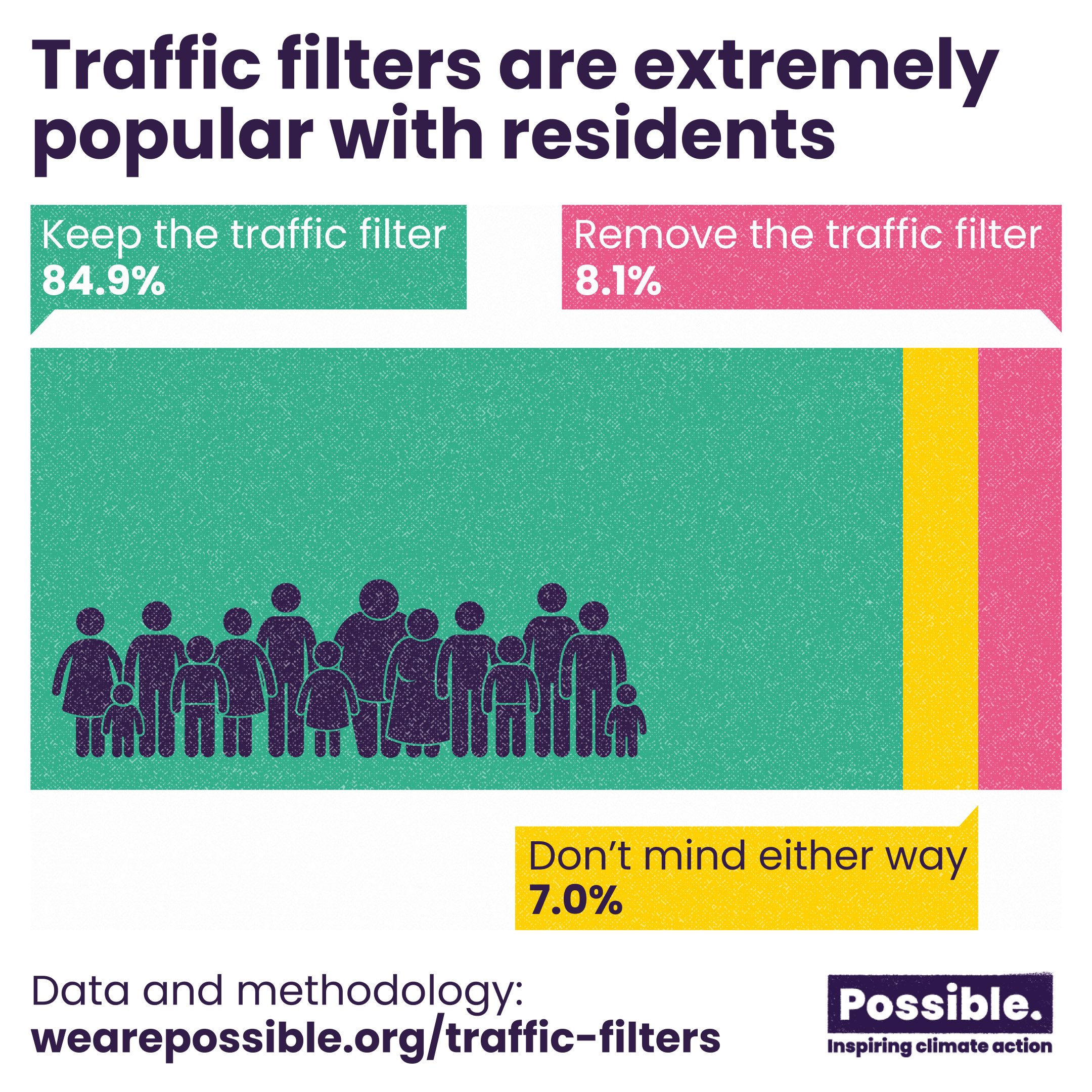 With the evidence on our side, it's time to share the results with our local councils and encourage them to introduce more low-traffic streets as a priority. 
Will you use our easy tool to write to your councillors with the evidence to ask them to take action?
We are really keen to hear of any responses you receive so that we can plan how to best engage with decision makers. Please forward councillor responses to: cfc@.... 
Thanks for all you do to take climate action,

Hirra Khan Adeogun
Head of Car Free Cities

*To find out more about our survey and what we found, click here

Possible (formerly 10:10 Climate Action) brings people together to do positive, practical stuff that helps tackle climate change. Our charity registration number is 1157363. You're receiving this email because you support Possible or one of our projects. Need a break from these emails? Unsubscribe.

Join main@camdencyclists.groups.io to automatically receive all group messages.